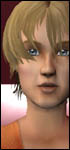 Amber
Youngest of three. She is named after the stone that is often found in Lithuania. Amber is fun and outgoing and currently works for an insurance company.

She is:
Sister to Chris and Andrew
Daughter of Rasa
Cousin of Katie and Maria
Niece of Daiva
Granddaughter of Justinas and Aldona
Click HERE to start ALL over!